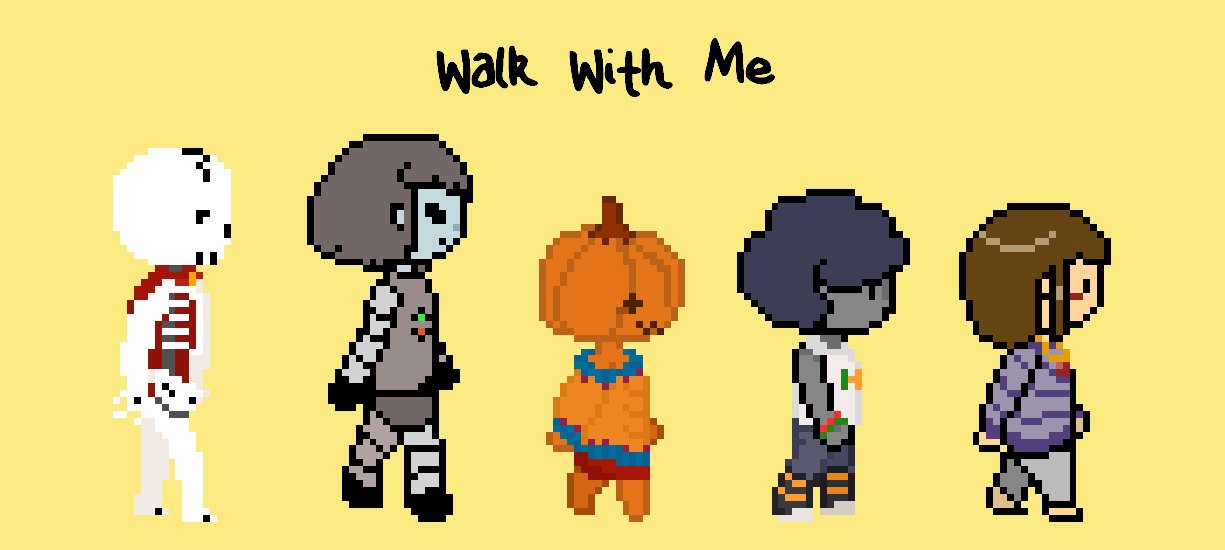 Walk With Me
Walk With Me: 2.1 Update (LIVE)
---
Wait, what happened to "last update"? A developer's job is never done, it seems. With the help of some good friends' playtesting, I managed to pick out some previously-unnoticed bugs and areas that needed general improvement. Most importantly, I received valuable feedback on the cutscene execution.
Now, then! The 2.1 update and features...
End Cutscene: major overhaul on the trigger mechanics (this should prevent the cutscene from triggering prematurely!)

Threshold--a new "Go Out" option pops up in the doorway interactions once a certain number of cumulative interactions has been reached. This gives the player the option to trigger the ending themselves!
Completion--the ending triggers automatically once every interaction in the game is completed!

Bug fixes:

Vesta's wardrobe/portrait changes not displaying correctly
Various interaction menus not "X"-cancelling correctly

General:

Slight TamaPetto "hack" battle re-balance

Minor aesthetic change to Snap Trap's room to make the "door" path clearer
Keep your socks on, there's more!
My goal was to release the upgraded cutscene system as soon as possible, but there are a few more audio and visual aspects of the game that I'd like to update. The default RPGMV sound effects and animations present in "Walk With Me" are first on my list, as they don't quite fit with the overall feel of the game. I've also considered re-working/remastering/extending the background themes to each room. That said, the audiovisual bits mentioned will take time to polish, so I will compile that work into a 3.0 patch. I hope you'll look forward to it!
xx, Omulette
Files
Walk With Me 2.1 (for Windows)
81 MB
Apr 10, 2018
Walk With Me 2.1 (for Mac OSX)
82 MB
Apr 10, 2018
Walk With Me 2.1 (for Linux)
86 MB
Apr 10, 2018