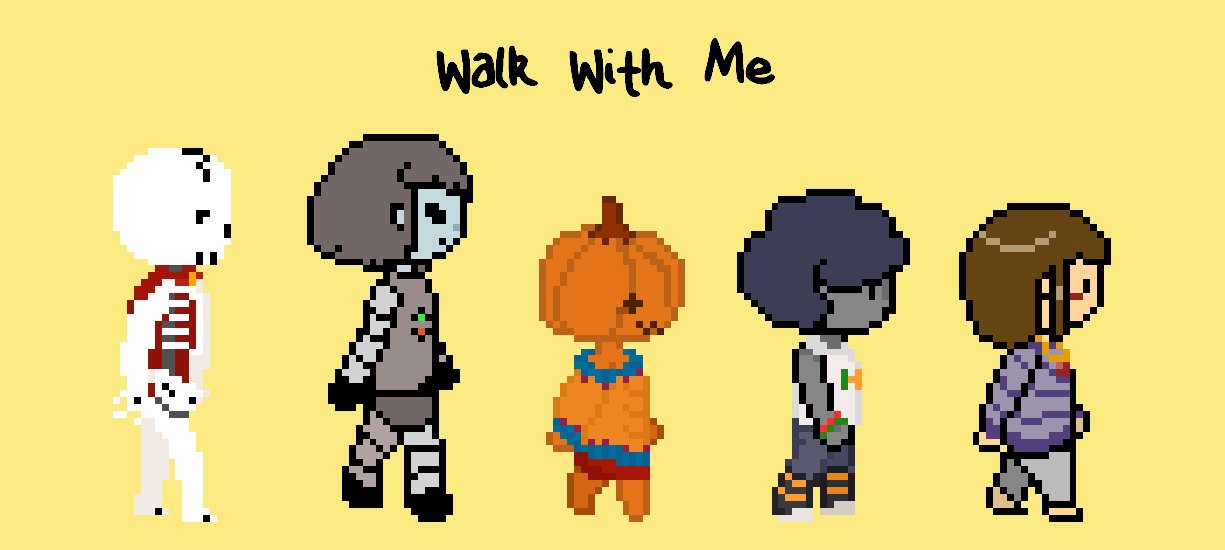 Walk With Me
A downloadable game for Windows, macOS, and Linux
"Walk With Me" is an experimental RPGMaker MV project by Kayleigh Fogle (aka Omulette). Through casual exploration of five unique character's spaces, the player has the opportunity to reflect on everyday relationships between game objects, the playable characters, and their own role as a participant in this fictional world.
"Walk With Me" was created as part of the University at Buffalo Department of Art's 2017 senior thesis exhibition, Inter-Spectra. The show itself, located at Silo City in Buffalo, is open to the public from May 5th - May 12th.
Important Note: The current state of the game is unfinished. It will be complete and ready to launch after May 5th, 2017.
Update//Version 1.0: As of May 5th, the final version of "Walk With Me" is live! Relax and enjoy the walk~
Update//Version 1.1//August 21st, 2017: Bug fixes, small aesthetic changes to all five spaces, & new tidbits of content.
Download
Click download now to get access to the following files:
Walk With Me 1.1 (for Windows)
81 MB
Walk With Me 1.1 (for MacOSX)
81 MB
Walk With Me 1.1 (for Linux)
85 MB
Comments
Log in with your itch.io account to leave a comment.
Hi. My name is Mel. I was wondering if I could translate your game into Spanish. If it doesn't bother you, of course <3
Hello there, Mel! You may translate "Walk With Me" into Spanish, if you wish. I am tweaking a few aspects of the current version for a "1.1" patch, so if you want to wait until the update goes live (or would rather translate the game as-is), just let me know. Thank you for your interest in my little project--it makes me happy that others enjoy my work!